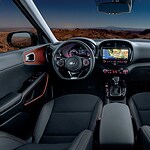 If you desire a versatile, nimble subcompact tailored to your tastes, we recommend the fully updated Kia Soul at Auto Express Kia. This hatchback with SUV touches looks stellar among our inventory in Wattsburg. Let's enjoy its highlights now.
With an interior that features mood lighting, the Soul offers fun drives. You can accentuate the lighting aspect by choosing the available Harman Kardon audio package with reactive speakers. The vehicle's driver interface lets you quickly change the color that your Soul's interior lights emit. Also, you can add year-round comfort with heated seats, and the Soul's asymmetrical rear seats easily fold to fit your life's crucial gear.
Externally, Kia's newest Soul garners gazes through noticeable hues. You can select from Snow White Pearl, Inferno Red, Cherry Black, Mars Orange and eight other memorable colors. Also, Kia's available two-color trim heightens your Soul's attention-drawing power. With six combos, this option helps you complete your updated Kia Soul.