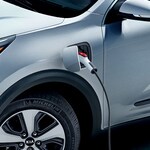 In the world of hybrid crossover SUVs, the Kia Niro is an option that stands out from the crowd. It's both sporty and luxurious, which makes it all the more popular and worthy of consideration.
Device Compatibility

The Niro accommodates the use of devices with features like Bluetooth, USB ports and even a wireless phone charger. You won't have to worry about staying connected when on the road for long periods of time. There is also support for music streaming services.

Self-Charging

? Self-charging is an exciting feature in the Kia Niro. You can switch between electric power and gasoline. What's even more inspiring is being able to use both electric power and gasoline at the same time. This is an innovative crossover SUV that's setting the pace instead of following the crowd.
These are exciting times for the Kia Niro. Experience this hybrid crossover for yourself by going on a test drive here at Auto Express Kia.